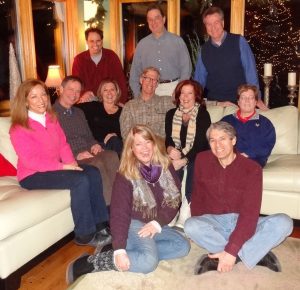 The Buckthorns have their roots (pun intended) in performances that began in 1994. Several members of the Lake Forest Open Lands Association were invited to provide musical entertainment for one of the group's events. The performance was so well received that the singers were invited to perform at subsequent Open Lands events.
The singers officially assumed the name The Buckthorns for a performance at a private Christmas party in 1995. The group named themselves "The Buckthorns", after the Glossy Buckthorn plant, a "bad weed" that springs up everywhere. Consistent with their namesake, The Buckthorns began receiving invitations to perform at many other community events.
In November, 2003, The Buckthorns released their first CD, "Branching Out." The CD release party was held at the Harrison Manor House in Lake Bluff. In November 2004, they released their second CD, "On a Silent Night," a compilation of their most requested Holiday songs. Once again, the CD release party was held at the Harrison Manor House.  The Buckthorns released their third CD, "Uprooted & Unplugged" in 2015, at an event held at Lovell's in Lake Forest.
Today, the group performs throughout the Chicago area, raising money for a wide range of charities. Typically, 90% of the group's performance fees go to charity, with the balance used to pay the group's expenses. None of the group's members are paid for their singing. Performances of The Buckthorns have been sold at live and silent auction at charity events, raising up to $2,500 for a one hour performance. As their schedule allows, The Buckthorns occasionally donate performances to churches and non-profit organizations.
The Buckthorns use profits from the sale of their CDs to pay for the group's equipment and expenses, and occasionally  to support local charities through donations.
All current members of The Buckthorns have roots in either Lake Forest or Lake Bluff, Illinois. In addition to performing at numerous private parties in the Lake Forest/Lake Bluff community, The Buckthorns have performed for groups such as Artists on the Bluff, Rotary International, Lake Forest Hospital and Catholic Charities, and at locations ranging from the far south suburbs of Chicago to the upper peninsula of Michigan.